Oakley Greening Campaign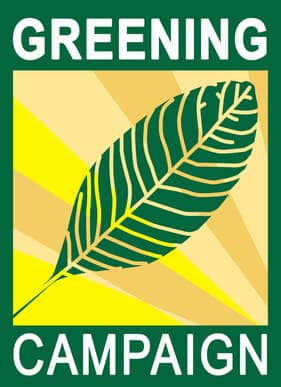 THE GREENING CAMPAIGN RESULTS to reduce our Carbon Footprints:
From counting the Challenge Cards in windows, our calculations covered only 10% of the Community. Even so, good annual results were achieved saving:
105.5 tons of CO2 emissions and £55,000 cost savings to households.
We would like to think more villagers joined in but forgot to put their cards in their windows. So, based on the 10% figures, then taking just 50% of the Community, the savings could be:
527.5 tons of CO2 and £275,000 pa. Let's keep going to make Oakley Greener! Think how high the savings could go if the whole village joined in.
A huge thank-you to those of you who joined in, and to the volunteers who delivered and counted the cards. We are very grateful.
Love Oakley? Go Green!
Thank you to everybody who visited our stall at the OCA Front Garden Fayre in July. We were really grateful for your support to vote for your 2 favourite Challenges to save carbon emissions. Cards printed with the top 8 favourites will be popped through your letterboxes early this month.
We look forward to your ongoing support to select and tick 5, and to put these into practice straightaway. Please place the cards in a front window clearly visible for us to count 6 – 10 September. Your total village contributions will be calculated to give Oakley's overall carbon emission savings. We will announce these, together with the cost savings to yourselves during our Green Week 2 - 10 October.
Even if you didn't vote originally, please join in the Greening Campaign now. Every small contribution adds to the whole. If everybody joins in, the results will be amazing! Please give your full support. Many thanks.
'The climate crisis is REAL: How can you contribute to the national campaign on reaching net-zero carbon? If we reduce our carbon footprints, BE POSITIVE AND WORK TOGETHER, we can build a better future for present and future generations?
By joining the Oakley Greening Campaign, taking small steps, encouraging others, keeping behavioural changes simple, making financial savings, we WILL achieve successful results.
The more who contribute to the Campaign, the more carbon we will save as a village. Please join in! It will be great to have your support.
THE OAKLEY GREENING CAMPAIGN is really here! PLEASE LOOK OUT FOR
THE CHALLENGE CARD DROPPING THROUGH YOUR LETTERBOX early AUGUST
TICK 5 FAVOURITES FROM THE 8 BELOW AND PUT THEM INTO ACTION by 14 AUGUST
PLACE YOUR CARD IN A FRONT WINDOW WITH THE LOGO FACING OUTWARDS
ALL THE CARDS WILL BE COUNTED BETWEEN 6-10 SEPTEMBER
LET'S CELEBRATE THE TOTAL CO2 AND COST SAVINGS
WHEN THEY ARE ANNOUNCED DURING OAKLEY GREEN WEEK – 2 to 10 OCTOBER
PLEASE GIVE YOUR FULL SUPPORT – AND THE RESULTS WILL BE AMAZING!!
OAKLEY GREENING CAMPAIGN CHALLENGES
| Challenge | Money saved per annum | CO2 kg saved per annum |
| --- | --- | --- |
| Halve food waste – make a meal plan using leftovers | £252 | 312 |
| Walk or cycle 1 mile once a week to school or shops | £16 | 27 |
| Turn off lights when leaving a room | £14 | 25 |
| Line or rack dry clothes | £35 | 65 |
| Turn the thermostat down by 1 degree C | £80 | 325 |
| Turn off all standbys and inactive appliances | £30 | 60 |
| Boil only the amount of water needed | £6 | 12 |
| Wash Laundry at 30 degrees C | £8 | 15 |